It Is That Time Of Year To Start Thinking About Your Garden
It's the Time of Year to Start Thinking About Your Garden.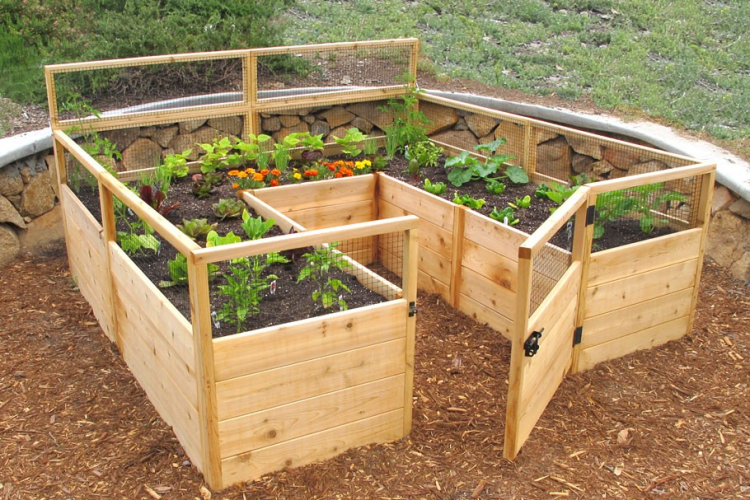 Like many people, I always struggle with creating a bountiful garden that isn't gobbled up by little critters. However, this year I'm going to try out a raised garden bed that I can put on our deck in hopes it would do a little better.
Unfortunately, some of kits can be a little labor intensive to put together. Here are seven kits that take most of the work out of the process. They range in price but you can find quality kits starting as low as $60
If you're looking for something that's raised up a bit so it's easier to work with, then these elevated bed styles or This little wedge is the perfect compliment to put on your deck. Made out of cedar, this wedge design allows for roots to go deep into the soil without taking up too much space. Best of all it doesn't require the use of any tools to install.
If critters are a problem for you, this kits provides an extra barrier between your delicious fruits and veggies and those pesky animals. The Cadillac of garden beds. Completed sealed off to keep pests away and provides plenty of room to create a bountiful garden.

Tomatoes and Peppers
Get a head start on the growing season by starting your tomato and pepper seeds indoors. Most tomatoes and peppers will take 6-8 weeks to reach transplant size so plan according to your climate zone!
Suggested tomato variety: Brandywine, Cherokee Purple, Roma, Sweetie, Heirloom Blend
Suggested pepper variety: California Wonder, Early Jalapeno, Sweet Banana, Super Chili

Onions
Late January is a great time to start your onion seeds indoors if you live in a warmer gardening zone (6-10) For zones 1-5 start your onion seeds in mid-late February. Let the onions grow to 5-6 inches tall and cut tops off so they will be only 3 inches. Repeating this until they are transplanted helps strengthen the roots and health of the onions.
Suggested onion varieties: Sweet White Walla Walla, Candy Hybrid, Yellow Sweet Spanish, Nebuka Evergreen

Herbs
Herbs are defiantly the most popular indoor plant to grow throughout the winter months. Try your hand at these 5 most popular herbs. Also check out the Urban Farmer Herb Kit
Suggested variety: Basil, Chives, Oregano, Parsley, Thyme

Annual and Perennial Flowers
Now is a great time to get your spring flowers germinating and ready for spring! There are many different varieties of annuals and perennials with different grow times. Pay attention to grow times so that your flowers are ready to be planted after last frost. Below are some good varieties to start in January for a last frost in March and April!
Annuals: Zinnas, Marigolds, Geraniums
Perennials: Rudbeckias, Daisies, Poppies, Coneflowers

Christina Haverty

REALTOR®, GREEN, GRI, CNE

512 693 8604 office /512 632 3162 cell
http://christina.buyinginaustin.com/
Turning Savvy, Informed Austin Area Urbanites into Successful Homeowners, Investors, Sellers and Leaser's!
Author:
Christina Haverty
Phone:
512-632-3162
Dated:
January 24th 2017
Views:
159
About Christina: Turning Savvy, Informed Austin Area Urbanites into Successful Homeowners, Investors, Sellers and Le...