Until you get invited to appear on the Ellen Show, nobody knows who you are... and then you have your 15 minutes of fame.... or sometimes longer. A girl can dream.
All I want to do is have fun. What a cliche!! All girls want to have fun. But what do I really mean. We all want to enjoy life and do what we like. Am I wrong? If so, then tell me, but I may be onto something here.
What does the best day of your life look like? Have you already it had it? Are you having it today?
I'm a foodie, therefore I live to eat. No, not in that way, I don't eat everything that I see and I don't eat junk, mostly. I love to try new places and new foods. My dream would be to go around eating at different restaurants and telling the chefs what's good and what's not. Maybe I would be a food critic, but that's not really what I'm thinking. I'd rather help them perfect the already great foods that they prepare and make sure that the bad ones are removed from the menus, replaced or improved. Yes, I love food!
If you care about what you eat, if you care to eat fresh foods, and you don't want to cook at home all the time, this is one place you should try. If you are looking for a fabulous restaurant, with table cloths and real napkins, heavy silverware, water glasses and wine glasses, and a diverse and delicious menu, do yourself a favor and stop at Fabi + Rosi.
It is hidden in 78703. This is Austin, Texas. If you have never been in town, you are in for a real treat with many amazing eateries to choose from. But back to Fabi + Rosi. I know where the name came from (owner's nephew and niece names), but Fabi makes me think of Fabulous, yes, with an capital F, and Rosi, hmm...that could be just rosy cheeks from smiling so much at the great food.
They are open from 5pm to 10pm, Monday through Saturday, so being a Friday evening we decided to head there early to make sure we'd get a table. There was ample parking across the street and you are encouraged to make reservations for parties of six or larger. At 515p we walked through the door and were seated immediately.
The interior is classy and modern, simple and cozy. The lighting was perfect, not too bright, but not so dark that some folks cannot read the menus. The table seated four and it was perfect for the three of us. My youngest daughter, a 21 years old UT student with an intellectual taste for good food and my favorite dinner companion who loves to try new foods and is a foodie in training.
My daughter had dined here before, therefore we requested her guidance in navigating the menu full of interesting options.
Escargot in garlic butter and toasted breadcrumbs was the appetizer of choice. They were served on a plate with hollow areas, as in a dish where you would place deviled eggs, but much smaller. The shells had already been removed and the snails were served in the garlic butter and covered with lightly toasted breadcrumbs. A basket of fresh bakery warm bread accompanied them. This dish did not disappoint. The escargot was tasty, fresh and delicious.
I was anxious to try as many dishes as possible, and my daughter wanted to order a board. What is a board, you may ask. It is similar to a wooden cutting board, thick and heavy, where the chef displays his creation. We chose the Metzger board which consisted of chicken liver pate that was the freshest pate I've ever had. It melted in my mouth and made my taste buds smile. The second member of the board was smoked Hausmacher, a type of sausage complemented with a spicy mustard, and the third one was Wagyu Tartare, a dish prepared with raw beef. These two are definitely an acquired taste which were more appreciated by my dining partners and any adventurous soul in the meat eating world.
We proceeded to order entrees, but decided on two to share among the three of us, since this would be plenty of food if you enjoy sharing a meal as we often do.
The special of the evening was sauteed red fish on a bed of delicious cabbage. The spices were difficult to pinpoint but were definitely exactly what the cabbage needed to make it one well prepared and tasty side dish. The fish was fresh, light and fluffy.
The other dish we ordered was the Duck Breast with creamy polenta, Brussels sprouts and a Bourbon glaze. I can describe this dish with one word: Wow! It had been many years since I had eaten duck and I remember the experience as a bit disappointing. I was in for a treat with this one. It was cooked to perfection. Soft, tender and full of flavor. It literally melted in my mouth. I did not think I could have eaten anything better than the pate until I took a bite of the duck. To continue the delight of flavors being discovered by my palate, I tasted the polenta, creamy is the best word to describe it, yes, that's what the chef called it and that's exactly what he accomplished. For a usually bland food, this polenta would take 1st prize in any competition. Then, I looked at the Brussels sprouts and figured they were going to be good. Good is not the word that came to mind when I tasted them. Superb would be the best description. Roasted, crunchy and soft, definitely delectable. This is now on my top five favorite dishes of all times and I will order it again when dining at Fabi + Rosi in the near future.
It's time to go. No, not yet. The young lady attending our table offered to bring us dessert menus. It seems that my 21 year old always has room for dessert, I used to be just like her, and in this occasion, our dining companion and I decided to accompany her in the enjoyment of the last course.
We proceeded to choose two desserts to share among the three of us, one more time. Our selection was the Chocolate Mousse with Sea Salt Caramel and Cocoa Nibs, and the Krack Pie with Hooch Cream.
As a disclosure, I love chocolate, but I don't usually prefer chocolate desserts. The mousse did not look appetizing to me, by my dining partners raved about it. I did taste it and it seemed to be everything a chocolate mousse should be.
Now, the Krack Pie gets another Wow! All I know is that it looked like a custard and tasted like nothing I've tried before. It had a lemony flavor, subtle enough to be appreciated and not overpowering. It could be also compared with creme brulee, but the texture was smoother and lighter. The hooch cream was rich with a touch of vanilla, and I felt like the pie did not need it. All in all, amazing!
If you are interested in trying any of chef Murber's creations, pay them a visit. Check out their website here: Fabi + Rosi.
Buen provecho!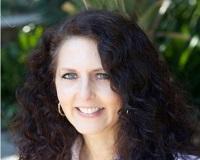 Sonia was born in Argentina and has lived in the US since 1980 and in Austin since 2001. Besides being fully bilingual (English-Spanish), Sonia has made it her mission to gain extensive familiarity wi....