Eat Baby Greens
Eat Baby Greens!
Friday is my favorite day at the office because my broker provides training meetings to keep us informed of changes, statistics, and to help us stay up to date with a lot of what our clients would want to know.
A couple of Fridays ago we had the pleasure of listening to a presentation by Ms. Teresa Parson from the 1031 Exchange Corporation. This is one option that investors have to save on taxes when selling and buying real estate.
If you would like more information on a 1031 exchange, please contact me at 512.577.5208 to discuss.
Now, to what's important, lunch!
As our Friday meeting was coming to an end, my 'partner in success', Marcela, suggested we go have lunch at this new spot in North Austin, right on W. Anderson Lane, minutes from our office and some well know neighborhoods such as Crestview and Allandale -- check out these properties in the area.
Baby Greens is a drive thru salad and wraps eatery. The owner, Sharon Mays, is devoted to make her "baby" a success, and with all the food competition in town, Sharon differs her locale with the vivacious bright green building, her salad and wrap creations and her special dressings.
On this occasion I decided to order the Southwest wrap on lettuce and a cup of soup. Yes, a wrap on lettuce, without the tortilla. It's a salad wrapped in lettuce, and it was so big, I had to hold it with my two hands. I asked for the chili lime and the balsamic dressings, since I wanted to try both.
My 'partner in success', Marcela, ordered a Rainbow salad. These one included a spring mix, red cabbage, pumpkin seeds, tomatoes, carrots, avocado and feta cheese with the Green Goddess dressing and a cup of the tomato basil soup as well. We had the soup together and then we went home due to the cold weather, lots of wind and 63F! Their seating area is only outdoors and any temperature under 70F is too cold for me. But in Marcela's own words, the salad was "fresh, crisp and delicious".
The soup of the day was a vegan tomato basil. With the first spoonful I knew I had made a good choice. The soup was light and well seasoned without any overpowering spices. I could taste the basil and enjoyed the small pieces of tomato. This soup was perfect!
When I got home, I took a bite of the wrap and it was exactly what I wanted, crispy and fresh. I dripped a bit of the balsamic dressing on it and took a couple more bites, delicious! The combination of the black beans, salsa, tomatoes and jicama was delightful, and next time I will ask for extra avocado.
I kept peeling the paper that was holding the wrap together, but I wanted to take larger bites so I decided to remove the paper completely. What a mistake that was! Fortunately I unwrapped it over a plate since it all fell apart. What was I thinking? Of course it would, a lettuce leaf is not going to hold all that food. At this point, it was a salad on a plate and I proceeded to pour the delicious balsamic vinaigrette dressing on it and devoured it. I tasted the chili lime dressing and it had a nice kick to it, but I decided not to eat since it contains dairy.
I will definitely have this wrap in the future, but next time I'll order it on a spinach or whole wheat tortilla to be able to eat it as such, or I will just order the Southwest salad in a bowl.
Sonia Comisarenco ~ REALTOR®~ Team Price Real Estate
We Introduce Buyers to Sellers
PH ~ 512-577-5208
Email ~ [email protected]
Website ~ sonia.buyinginaustin.com
You can also download my app to search for properties by texting 'Sonia' to 512-270-7326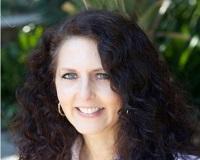 Author:
Sonia Comisarenco
Phone:
512-577-5208
Dated:
December 6th 2016
Views:
261
About Sonia: Sonia was born in Argentina and has lived in the US since 1980 and in Austin since 2001. Besides bei...