Dinner And The Oscars 2017
Dinner and the Oscars 2017
My friend and colleague needed a break as much as I did, so we decided to get together and watch the Oscars at my place.
I love to cook and wanted to make a new dish, so I sat down in front of my computer and perused through my Pinterest account to find a new recipe to make with the ingredients that I had at home.
My recent trip to Whole Foods had been fruitful and my refrigerator was full of delicious fresh produce, therefore it was an easy task.
After a few minutes, I settled on Chickpea Tikka Masala, white rice, roasted cauliflower and almond butter cookies for dessert.
The Chickpea Tikka Masala was easier to prepare than expected. I followed the recipe almost to a T, which is not the norm in my kitchen. I usually like to experiment and use what I have available , while disregarding parts of a recipe, but this time I had all the ingredients listed so I proceeded to follow the instructions.
First, I sautéed the onions in a spoonful of extra virgin olive oil, I added garlic, ginger, garam masala, cumin, turmeric, coriander, salt, paprika, cayenne pepper and left it to simmer for about fifteen minutes. I added the chickpeas, crushed tomatoes and coconut milk and let it cook for another five minutes. That's all folks, done! The flavors of this dish were balanced and well suited for the rice as an accompaniment.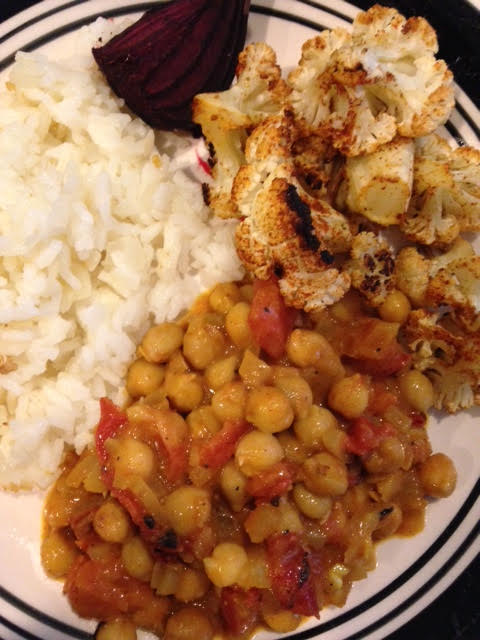 Before the main dish, I had cut the cauliflower in small florets and sprinkled them with paprika, cumin, salt and chili pepper and after tossing them with a little olive oil I placed them in the oven to roast. They came out just spicy enough and very palatable, perfectly matched as a side dish.
The cookies were also made earlier in the day. This was a recipe I had made before which calls for peanut butter, but I prefer to use almond butter and since that's what I had in my fridge, it was an easy decision. The cookies only have four ingredients: almond flour, almond butter, maple syrup and coconut sugar. All you do is mix well, make golf size balls with your hands, roll them over the sugar and then press them flat with a fork before baking them. Once you take them out of the oven, let them cool a bit and try not to eat them all at once.
These were very easy dishes to prepare and I will definitely make them again to share at a party or pot-luck dinner.
After dinner we sat down to enjoy the show and relax. The Oscars turned out to be full of excitement, a parade of beautifully dressed stars, good music and some remarkable speeches.
The whole show was good, but the end is what everyone will remember from the 2017 Oscars, the announcement of the wrong film as the winner. The confusion on stage was apparent just a few seconds after La La Land was named the winner when the actual winner was Moonlight. What happened you may ask? A simple mix-up with the results envelope which got handed to the announcers. At the end, everyone was gracious and appreciative of their achievements.
My movie recommendations: La La Land, Moonlight, Fences, Hidden Figures and Lion.
I would love to hear from you with any comments or questions, or if you'd like to try any of these recipes, let me know and I'll be happy to share them with you.
Thank you in advance for reading.
Sonia Comisarenco ~ REALTOR®~ Team Price Real Estate
We Introduce Buyers to Sellers
PH ~ 512-577-5208
Email ~ [email protected]
Website ~ sonia.buyinginaustin.com
You can also download my app to search for properties by texting 'Sonia' to 512-270-7326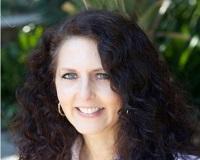 Author:
Sonia Comisarenco
Phone:
512-577-5208
Dated:
February 27th 2017
Views:
169
About Sonia: Sonia was born in Argentina and has lived in the US since 1980 and in Austin since 2001. Besides bei...