I like it when my friends come to visit from out of town and take the time to research new places to try for lunch or brunch. They know I'm a foodie, health conscious and that I prefer vegetarian or vegan fare.
This time my friend suggested the Citizen Eatery. Interesting enough I had not heard of it, so I immediately asked Google to tell me where it was and to show me the menu. I was happily surprised when I saw that it was a 100% meat free restaurant. The menu is completely vegetarian with vegan options and an all-day breakfast.
We went on a Sunday morning for brunch. The ambiance was relaxed and the setting, modern. The over-sized windows allowed for plenty of natural light, and we noticed the full bar which would be great for a meal in the future, at a later time of the day.
We proceeded to order shortly after we arrived.
My friend had been talking about a Shakshuka, this is a middle eastern dish which consists of poached eggs atop spiced tomato sauce and wilted kale, and since he had seen it on the menu, he knew exactly what he wanted.
It took me a bit to decide since they had so many options, but I finally settled on the Citizen Scramble.
The service was friendly and we were offered mimosas, which we politely declined, but they looked incredible as they were being served to the adjacent tables.
When the dishes arrived, they looked great.
The Shakshuka was divine. I tasted the tomato sauce and it was slightly spicy and full of flavor. This is exactly what I will be ordering on my next visit.
My choice consisted of two eggs scrambled to perfection, soft and light, prepared with cremini mushrooms, potatoes, onions, wilted kale and vegan cheese, and a side of gluten free toast. I could have substituted the eggs for tofu, but I chose to only switch the cheese this time. It was even better than I had expected.
The Citizen Eatery is now as one of the top three best, healthy, vegan restaurants to try in Austin. Check it out Here!
This part of town has fabulous real estate starting in the 400's. Check out the new listings here. Call or email me to set up an appointment to view them and with any questions.
Sonia Comisarenco ~ REALTOR®~ Team Price Real Estate
We Introduce Buyers to Sellers
PH ~ 512-577-5208
Email ~ [email protected]
Website ~ sonia.buyinginaustin.com
You can also download my app to search for properties by texting 'Sonia' to 512-270-7326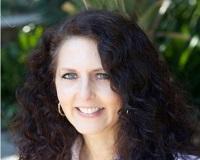 Sonia was born in Argentina and has lived in the US since 1980 and in Austin since 2001. Besides being fully bilingual (English-Spanish), Sonia has made it her mission to gain extensive familiarity wi....