Something For Everyone At Quinoa Grill
Quinoa Grill
On a lovely Sunday afternoon earlier this month I had two of my best friends visiting. I'm a foodie and mostly vegan so it is difficult to prepare dinner for guests that are not so accustomed this type of food.
We chatted for a while and I went online to check out restaurants around my house that would have something for all of us. I was pleasantly surprised when I saw a place called Quinoa Grill. I'm a fan of quinoa because of all its nutritious properties, so that was a good start. I looked at their menu and noticed that they had plenty of options for a party of diverse preferences.
This homey gem is located in Round Rock, a few minutes north of the intersection of IH-35 and Toll Road 45, off A.W. Grimes.
The locale was welcoming and the staff nice and chatty, which is how I like it. It was about 4p and not crowded, but several other diners were enjoying what seemed like large, fresh, delicious-smelling dishes. We had two servers, probably because it was not too busy at the time, all proudly wearing their Quinoa Grill shirts.
They brought us water and iced tea, and proceeded to tell us a bit about the food on the menu. There were many options, from pasta to chicken, beef, seafood and many other vegetarian dishes that you could add meat to.
We first ordered the Yuca a la Huancaina, fried cassava root served like fries with a yellow pepper sauce. They were crunchy on the outside and soft on the inside. The taste of the yucca itself is very mild, almost non-existent, so they absorb any flavor you put on them. The Aji Amarillo sauce was very mild too, but it added that hint of spice needed to make them delightful. There were more on the plate, but most were gone before I could take the picture.
For a main course, I chose the Andean Salad. It consisted of a bed of greens with Lima beans, quinoa, corn, avocado, beets and a light and tasty lime vinaigrette. It was nicely portioned, perfectly filling, and fresh and delicious.

One of my friends ordered the Chicken Saltado. This dish had white meat chicken, tomatoes and red onions, sautéed in white wine and soy sauce with cilantro and jasmine rice, on a bed of fries. I tasted the onions and tomatoes and I was surprised by the slight sweetness--they were scrumptious and I continued to steal them from my friend's plate (he didn't mind).
My other friend opted for the Steak Anticuchos. This dish was made of three marinated sirloin steak skewers with corn, Yukon gold potatoes and aji rocoto, on the side. Since I don't eat meat, I only tried the potatoes. They were golden and soft all around, mildly seasoned and went well with my salad too (she didn't mind me picking from her plate either).
We skipped dessert this time, but there will be more opportunities to try something sweet and different, next time we visit Quinoa Grill.
Round Rock continues to grow and expand, but there are still lots of affordable homes in the area.
To view newly listed homes for sale in Round Rock, click HERE.
To view newly listed homes for sale in Pflugerville, click HERE.
To view newly listed homes for sale in Georgetown, click HERE.
Sonia Comisarenco ~ REALTOR®~ Team Price Real Estate
We Introduce Buyers to Sellers
PH ~ 512-577-5208
Email ~ [email protected]
Website ~ sonia.buyinginaustin.com
You can also download my app to search for properties by texting 'Sonia' to 512-270-7326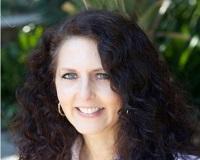 Author:
Sonia Comisarenco
Phone:
512-577-5208
Dated:
June 25th 2018
Views:
428
About Sonia: Sonia was born in Argentina and has lived in the US since 1980 and in Austin since 2001. Besides bei...